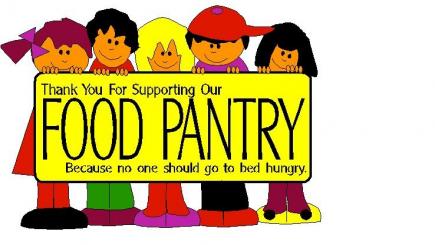 The Olmsted Falls food pantry is one of the most fundamental operations Christians in Action provides.   Did you know that the need for emergency food assistance is up by over 50% since the recession began in 2008?  The unemployment rate continues to hover around 9%  and more Americans than ever are having trouble putting food on the table.  Many people, including our neighbors in the Olmsted community, have joined the ranks of the unemployed and find themselves in need of food assistance.   It's a harsh reality.
Our food pantry is NOT a government agency!  It is sponsored and run soley by volunteers of the Olmsted community.   We provide a free supply of emergency groceries once per month per household for residents who meet the federal poverty guidelines.  All  participants are allowed to "shop" grocery store style, therefore eliminating any waste of unwanted items included when food is prebagged .   We serve everyone from low income families, single parents, senior citizens, unemployed individuals, working poor and anyone else that comes to the pantry that needs emergency food assistance. 
In 2016, the food pantry served over 1,100 families which is over 2,500 individuals.   Over 60 new families were registered as well.   As the need for assistance continues to steadily climb, so does the need for donations.   The Olmsted Falls food pantry relies solely on the generous donations of the Olmsted community.  

 Below is a list of non-perishable food items that are most needed:
spaghetti sauce and noodles

canned beef stew or chili

canned tuna, salmon, or chicken

boxed dinners such as hamburger helper, tuna helper

canned vegetables or soups

canned fruit

gelatin or pudding mixes

mac 'n cheese box

apple sauce

tomatoes or tomato sauce

cake mixes

oatmeal or cream of wheat

canned potatoes

peanut butter & jelly
Also in need of:
toilet paper

bar soap

shampoo

toothpaste
Food may be donated to the Olmsted Community Church, the Olmsted Community Center, St. Mary of the Falls and several other local area churches.   Look for the designated barrels labeled "CIA FOOD PANTRY".