OUR 2017 SCHOOL SUPPLY DRIVE IS CURRENTLY UNDERWAY

 AND WE NEED YOUR HELP!
Christians in Action strives to ensure that every less fortunate child in the Olmsted Falls school system is provided with the necessary tools to succeed and learn.  CIA helps children start the school year with confidence because they now have what every other child has.  They are not left out and are equipped to succeed! 
School supplies are provided for children in grades Kindergarten through 12th grade, once a year every August.  All children MUST be registered with Christians In Acton.  Supplies are collected, sorted and pre-bagged by grade and distributed to each registered child. All supplies are based on the generous donations from the Olmsted Falls community.  Please donate and change the life of a child in need!  All donations are needed by August 4th!  
IF DONATING SCHOOL SUPPLIES – Please package the supplies and label them "CIA – School Supplies" and leave in the St. Mary of the Falls Hunger Hurt Barrels in the vestibules at the church.    Donations are also accepted at the Olmsted Community Center and the Olmsted Community Church.    Please leave in designated barrels.   Christians in Action are solely responsible for claiming the contents of those barrels.
Monetary donations are also accepted.  http://www.ofcia.org/donate    Please indicate "School Supplies" with your donation.
You can also contact Karen Ruffing at Krufruf@roadrunner.com with any questions.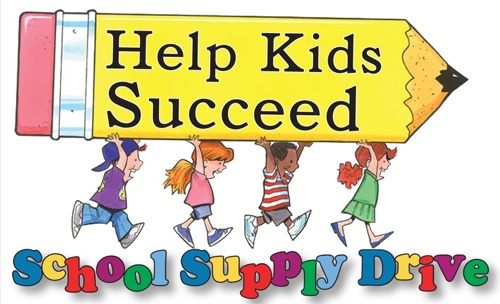 School Supplies needed:  (Items noted as "Most Needed" are those items rarely donated and students are in dire need of. ) 
1 subject, 3 subject and 5 subject spiral notebooks (wide ruled and college ruled)  There is a BIG need for 3 and 5 subject with pocket dividers!

Glue Sticks (small and large)

Elmers Glue

1 inch 3 ring binders with pockets – MOST NEEDED ITEM!
1 1/2 inch 3 ring binders with pockets – MOST NEEDED ITEMS!

packs of 5 tab dividers

Loose leaf filler paper – college ruled and wide ruled – MOST NEEDED ITEMS!

Composition notebooks

Pencils

Pens (blue, red, black) – MOST NEEDED – BLUE and RED pens!
Dry Erase Markers (black) – MOST NEED ITEM!
Hi-liters – (yellow, all other color accepted)  MOST NEEDED ITEM!

12 inch wooden rulers

Hand Sanitizer – MOST NEEDED ITEM!
Clorox/Lysol Hand wipes – MOST NEEDED ITEM!

Pocket Folders (2 pocket with and without prongs)

8 1/2 x 11 Copy Paper – MOST NEEDED ITEM!