By the grace of God, Christians In Action is able to provide a Homebound Food Delivery service to those in need.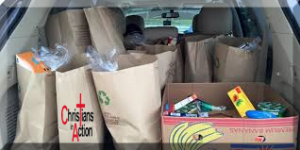 Once a month, a small group of volunteers deliver food to those families registered with Christians-in-Action that are unable to leave their homes due to a physical handicap, a chronic illness, or those temporarily confined while recovering from a recent surgery.
All participants must be pre-screened to ensure eligibility.