Christmas – Adopt A Family

As the Christmas season draws near, Christians In Action is once again preparing to provide holiday assistance to the many families in the Olmsted Falls/Township community who have fallen on hard times. The economy continues to struggle and Christians In Action is seeing more families who cannot afford to buy presents to put under their Christmas tree this year. For most of us, the holidays are filled with love, joy and family. However, for many of our neighbors, the Christmas season is filled with sadness and uncertainty. The idea of a joyous Christmas may be only a dream for many. That's why each Christmas, Christians In Action strives to make those dreams a reality by making sure every registered family has Christmas gifts and a holiday meal. We cannot do this without the generosity of our community. Last year Christians In Action provided Christmas gifts to 110 families – over 295 individuals! We also served a wonderful hot Christmas meal at the Olmsted Community Church.
Would you like to make someone's Christmas brighter? There's truly no greater gift than to experience the spirit of giving and what better way than adopting a family for Christmas!
HOW DOES IT WORK?
The families who seek Christian In Action's help are facing financial hardships and are unable to afford to put Christmas gifts under the tree. The Adopt A Family program provides an opportunity for you to help by adopting a family in need. You can adopt a family by yourself, as a group or by making a donation. It's a great way for individuals, groups or corporations to provide a nice Christmas for those less fortunate in our community. Christians In Action will partner you with a family based on family size and ages of all family members. Family sizes vary from one person (elderly and the unemployed) to families with several children and includes people of all ages. There is a family for every budget!
After being assigned a family, you will receive a gift "Wish List" including information about the family; their genders, ages, clothing sizes and holidaywishes. Instructions on gift handling, dropoff date and location will also be included.
Each family member has asked for 3 "wishes" less than $25. Feel free to choose from any of these, or all, if you are so inclined and blessed. All Christmas gifts need to wrapped, appropriately labeled and dropped off at the Olmsted Community Church on Saturday December 9, 2017 between the hours of 9:00 am and 2:00pm. The Christians In Action Christmas party will be held on Sunday, December 10th and the families will receive their gifts at that time, along with a hot Christmas meal. The Adopt A Family program is completely anonymous.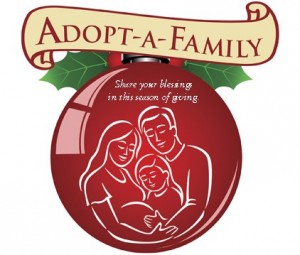 There are several ways to adopt a family in need:
Visit the Olmsted Community Center at 8170 Mapleway Drive Olmsted Falls

(440-

427-1599)

. The Adopt A Family wish lists will be available at the front desk. You will be able to sign 

out as many wish lists as you like and instructions will be provided.

Email ADOPTCIA@ROADRUNNER.COM

Complete and submit the form below and a Christians In Action volunteer will contact you. PLEASE NOTE: FAMILIES ARE ASSIGNED ON A FIRST COME, FIRST SERVE 

BASIS. We will try to accommodate your preferences as best as possible.
We are always in need of unwrapped toys for our toy room.  During our Christmas party on December 10th, parents have the opportunity to select a  toy for their child and have it wrapped by one of our volunteers.
If all families have been adopted and you would still like to help, we are in need of gift cards ($20-25) for grocery stores, gas stations and restaurants (also McDonalds & Burger King).   These are raffled off to the families attending our Christmas party and are MUCH APPRECIATED!!!    If you are so inclined to donate, please drop off in a sealed envelope to the Olmsted Community Center or St. Mary's office  - labeled "Christians In Action Donation" by December 10th.   THANK YOU IN ADVANCE FOR YOUR GENEROSITY!